In a world that includes and celebrates barbaric melodrama, followers of Jesus are called to be children of light.
2 Samuel 4
4 When Ish-Bosheth son of Saul heard that Abner had died in Hebron, he lost courage, and all Israel became alarmed. 2 Now Saul's son had two men who were leaders of raiding bands. One was named Baanah and the other Rekab; they were sons of Rimmon the Beerothite from the tribe of Benjamin – Beeroth is considered part of Benjamin, 3 because the people of Beeroth fled to Gittaim and have resided there as foreigners to this day.

4 (Jonathan son of Saul had a son who was lame in both feet. He was five years old when the news about Saul and Jonathan came from Jezreel. His nurse picked him up and fled, but as she hurried to leave, he fell and became disabled. His name was Mephibosheth.)

5 Now Rekab and Baanah, the sons of Rimmon the Beerothite, set out for the house of Ish-Bosheth, and they arrived there in the heat of the day while he was taking his noonday rest. 6 They went into the inner part of the house as if to get some wheat, and they stabbed him in the stomach. Then Rekab and his brother Baanah slipped away.

7 They had gone into the house while he was lying on the bed in his bedroom. After they stabbed and killed him, they cut off his head. Taking it with them, they travelled all night by way of the Arabah. 8 They brought the head of Ish-Bosheth to David at Hebron and said to the king, 'Here is the head of Ish-Bosheth son of Saul, your enemy, who tried to kill you. This day the Lord has avenged my lord the king against Saul and his offspring.'

9 David answered Rekab and his brother Baanah, the sons of Rimmon the Beerothite, 'As surely as the Lord lives, who has delivered me out of every trouble, 10 when someone told me, "Saul is dead," and thought he was bringing good news, I seized him and put him to death in Ziklag. That was the reward I gave him for his news! 11 How much more – when wicked men have killed an innocent man in his own house and on his own bed – should I not now demand his blood from your hand and rid the earth of you!'

12 So David gave an order to his men, and they killed them. They cut off their hands and feet and hung the bodies by the pool in Hebron. But they took the head of Ish-Bosheth and buried it in Abner's tomb at Hebron.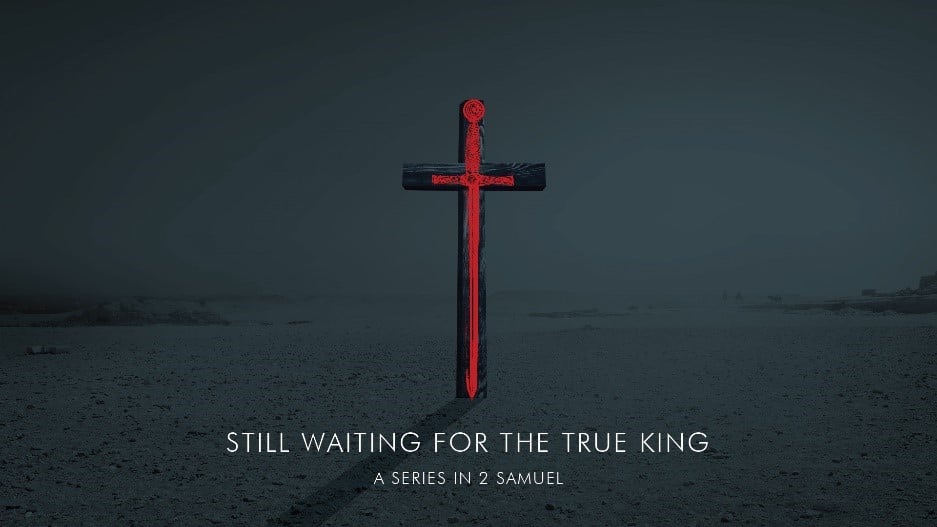 Welcome back to the world of barbaric melodrama, where so far we've seen executions (1:15); two different kings (2:4, 2:9); incredibly painful stomach-stabbings (2:23, 3:27); a king bearing children with six different women (3:2-5) and wanting another woman back (3:14); a commander taking a royal concubine (3:7) and dismissing it as something inconsequential (3:8); shifting loyalties (3:9, 25); and sneaky traps (3:26-27). The conclusion of Judges is echoing louder and louder: "…everyone did as they saw fit" (Judges 21:25).
In this atmosphere, it's no wonder that two raiders think that murdering one king (who's also their employer?!?) to gain the favour of another king is a smart thing to do. Because so many of the people around them are living lawlessly – with no perceivable consequences – they might as well just do whatever is right in their own eyes.
Yet we see a character who shines some light in this darkness. David praises the Lord as his deliverer, informs the opportunistic raiders that he's already killed one messenger for taking a king's life, denounces their actions as even worse, and has them executed and dismembered.
We live in a world that not only has similar kinds of barbaric melodrama within it, but celebrates murder, mayhem and sexual immorality as entertainment (cf. Ephesians 5:15). Living in this atmosphere, it's easy to do the same thing as the two raiders and vicariously (imagined participation in the experience of others) jump on the bandwagon. But as ones bought by the blood of Christ, the apostle Paul says this: "For you were once darkness, but now you are light in the Lord. Live as children of light (for the fruit of the light consists of all goodness, righteousness and truth) and find out what pleases the Lord. Have nothing to do with the fruitless deeds of darkness, but rather expose them" (Ephesians 5:8-11).
We were once involved in the dark world. Now we are called to live in that world but not participate in its "deeds of darkness". To denounce them like David. Unlike David, though, we do not use the sword in retaliation (cf. Luke 22:51). We are to live as children of light, which overwhelms darkness by its presence. And the light of Christ within us bears fruit of goodness, righteousness and truth, whereas darkness bears no fruit.
Head: While living in a Christian bubble it's easy to forget the real state of our world as "enemy-occupied territory" (C. S. Lewis in Mere Christianity). What things are you filling your mind with (TV, movies, news, gossip, social media, books, etc) that contain "fruitless deeds of darkness"?
Heart: If you've been feeling disgusted by the immorality in 2 Samuel, that's healthy. Reflect on whether you also feel disgust at the immorality in our world, or if you've become accustomed to it…
Hands: We can vicariously feel and enjoy covetousness, jealousy, greed, sensuality, lust, etc. This is one of the attractions in why we have entertainment. Is there entertainment you vicariously enjoy that you should flee from as a child of light?
Prayer: Heavenly Father, You are good and gracious and honourable. We lament that our world is filled with deeds of darkness and confess that we sin against You. Thank you for the death of your Son, and the forgiveness you give. Please help us to see evil as evil, to hate what you hate, and love what you love. In Jesus' righteous name, and by the illuminating power of Your Spirit, Amen.
A song to listen to: This Life I Live
Reuben Birchley
Living Church – Creek Road Campus