People are divided from one another as some accept Jesus' forgiveness and some do not.
Luke 12:49-53

49 "I have come to bring fire on the earth, and how I wish it were already kindled! 50 But I have a baptism to undergo, and what constraint I am under until it is completed! 51 Do you think I came to bring peace on earth? No, I tell you, but division. 52 From now on there will be five in one family divided against each other, three against two and two against three. 53 They will be divided, father against son and son against father, mother against daughter and daughter against mother, mother-in-law against daughter-in-law and daughter-in-law against mother-in-law."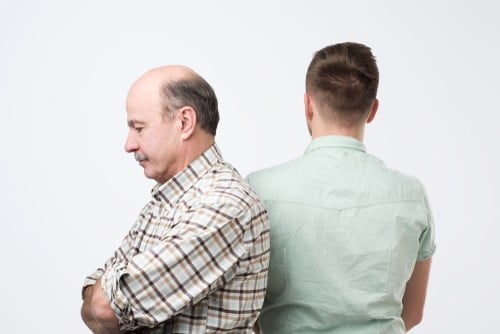 I (Maddie) don't go to a Christian school. My school is a long way from church (both physically and socially) and the culture, the people and the environment are different there. Now, I love my school, I love my friends, and the school culture is more about friendship and unity than anything else.
But it's not Christian, and as a result it can be easy for me to slip out of my Christian ways so I can fit in better. Naturally, following Jesus makes you stand out. Sometimes my friends have organised activities that I've had to say 'no' to. I've occasionally been told I'm old fashioned, out of touch, a hypocrite and just plain weird. Organised religion, for so many of those girls, means things they hear about in stories from their grandparents' time – old news.
I will never forget my friend's face when I told her I prayed for her at Youth or when I quoted the Bible without pulling a heavy leather-bound book out of my bag. I even have to assure them I don't sacrifice animals or get cleansed with holy water as weekend activities.
I don't blame them for their curiosity, confusion or even lack of knowledge, but it's hard when you're surrounded by people who have no idea what you're talking about and may find you a little odd. I've certainly struggled with shame when it comes to my faith and I've had to work hard to not hide it from my friends. It sometimes seems impossible to cross the divide in the right way.
Why is it like this? In the passage, Jesus tells his disciples that there are two different ways that people respond to him. They are so different that they may bring division, even within the close bond of the immediate family. In the first part of chapter 12, Jesus is recorded saying several things that draw a distinction between those who will follow him and those who will not. Now he brings this point into sharp relief: Jesus tells us his coming does not universally bring peace, but it also brings fire.
The fulcrum on which all of this turns is the sacrificial death of Jesus – the "baptism" that he was to undergo. His death represents our rejection of him. However, while some are brought into the realm of peace by his sacrifice and resurrection to life, others don't accept the gift and remain enemies of God. There is a divide. As followers, we can continue to reach out across that divide and invite others to cross over, via the work of Jesus.
Nevertheless, even for those who are washed clean by Jesus, there will still be fire, or suffering. In part, it represents the broken and painful relationships with those who view Jesus from the opposite viewpoint. Let's keep praying for them to come over to Jesus' side.
Head: In what ways are you tempted to bridge the divide by becoming more like those who don't follow Jesus, rather than by inviting them over to Jesus' side?
Heart: It's painful to be divided from our family and friends. Could you ask your Growth Group or other Christian sisters and brothers to pray for you and support you?
Hands: Many churches are considering effective ways to invite people to cross the divide to Jesus' side. One is via Sam Chan's "Evangelism in Sceptical World". Get involved as our church works on implementing these ideas.
Prayer: Dear Lord. Thank you for giving us brothers and sisters that we can help share the burden of living with the divide. Thank you for your guiding spirit and word that help us find courage and wisdom. We pray that you bring us closer to our friends who aren't Christian in helpful ways and give us words to reach them with your love. We're sorry for slipping away when we aren't at church with Christian friends because we're looking longingly at a different lifestyle. Help us to live for you always. Amen
A song to listen to: Cornerstone
Geoff Pryde and Maddie Pryde – Living Church Creek Road