God put Abraham's faith to the test. How do you respond in times of testing?
Genesis 22
Some time later God tested Abraham. He said to him, "Abraham!"

"Here I am," he replied.

2 Then God said, "Take your son, your only son, whom you love—Isaac—and go to the region of Moriah. Sacrifice him there as a burnt offering on a mountain I will show you."

3 Early the next morning Abraham got up and loaded his donkey. He took with him two of his servants and his son Isaac. When he had cut enough wood for the burnt offering, he set out for the place God had told him about. 4 On the third day Abraham looked up and saw the place in the distance. 5 He said to his servants, "Stay here with the donkey while I and the boy go over there. We will worship and then we will come back to you."

6 Abraham took the wood for the burnt offering and placed it on his son Isaac, and he himself carried the fire and the knife. As the two of them went on together, 7 Isaac spoke up and said to his father Abraham, "Father?"

"Yes, my son?" Abraham replied.

"The fire and wood are here," Isaac said, "but where is the lamb for the burnt offering?"

8 Abraham answered, "God himself will provide the lamb for the burnt offering, my son." And the two of them went on together.

9 When they reached the place God had told him about, Abraham built an altar there and arranged the wood on it. He bound his son Isaac and laid him on the altar, on top of the wood. 10 Then he reached out his hand and took the knife to slay his son. 11 But the angel of the Lord called out to him from heaven, "Abraham! Abraham!"

"Here I am," he replied.

12 "Do not lay a hand on the boy," he said. "Do not do anything to him. Now I know that you fear God, because you have not withheld from me your son, your only son."

13 Abraham looked up and there in a thicket he saw a ram caught by its horns. He went over and took the ram and sacrificed it as a burnt offering instead of his son. 14 So Abraham called that place The Lord Will Provide. And to this day it is said, "On the mountain of the Lord it will be provided."

15 The angel of the Lord called to Abraham from heaven a second time16 and said, "I swear by myself, declares the Lord, that because you have done this and have not withheld your son, your only son, 17 I will surely bless you and make your descendants as numerous as the stars in the sky and as the sand on the seashore. Your descendants will take possession of the cities of their enemies, 18 and through your offspringall nations on earth will be blessed, because you have obeyed me."

19 Then Abraham returned to his servants, and they set off together for Beersheba. And Abraham stayed in Beersheba.

20 Some time later Abraham was told, "Milkah is also a mother; she has borne sons to your brother Nahor: 21 Uz the firstborn, Buz his brother, Kemuel (the father of Aram), 22 Kesed, Hazo, Pildash, Jidlaph and Bethuel." 23 Bethuel became the father of Rebekah. Milkah bore these eight sons to Abraham's brother Nahor. 24 His concubine, whose name was Reumah, also had sons: Tebah, Gaham, Tahash and Maakah.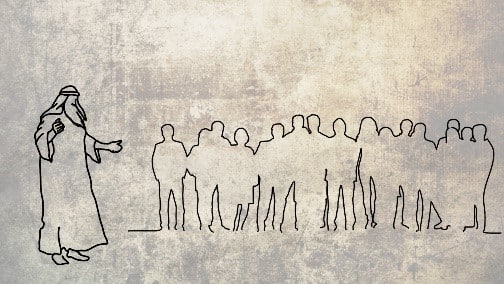 Abraham displays amazing faith in God, even in the face of an apparent contradiction – earlier in Genesis, we read that Abraham will have many descendants. Now, God wants Abraham to sacrifice his only son – no son would have meant no descendants.
We cannot know what Abraham was thinking when he first heard what God asked him to do, yet we see in verse 3 that Abraham gets up early to carry out the task (contrast this with how Jonah responded to a call from God). Through the rest of the passage, we see Abraham dutifully, right to the stage of having a knife in his hand standing above his bound-up son, doing what God has asked Abraham to do.
Through the grace of God, we then see that Abraham's faith and trust rewarded – and the promise about descendants (that God made earlier in Genesis) repeated.
Later in the Bible, in the book of 1 Peter, we read that testing of our faith will hopefully result in praise and glory to Jesus. Let's trust that God is working out his will in our lives in a way that we cannot understand (and may not understand, this side of heaven).
Head: When you face a challenge, do you respond in a way that glorifies God?
Heart: Sometimes we are in sticky situations because we are caught in habits that we know aren't helpful, but we still secretly enjoy. Do you need to pray for a heart that changes so you can glorify God more fully with your life?
Hands: I'm not going to ask you to climb a mountain with your firstborn child (at least, not today). However, can you think of something in your life that seems almost too great a challenge? Have you prayed about it? Spoken with a fellow believer about it? Even if it is as simple as getting up and going to work/study today – that will still be a faithful response to growing where you are planted by God.
Prayer: Dear Lord, you call us to be faithful and we turn away. We are sorry that our laziness and sin grieves your heart. In your mercy, would you do a mighty work in and through us so that we can faithfully serve you well today? Amen.
A song to listen to: Great is Thy Faithfulness
Oliver Meehan – Living Church Creek Road
This Grow Daily was originally posted as part of the Bible in 10 series in 2017. During the School Holidays we take the opportunity to look back at the best of Grow Dailys over the years.