It is tempting to think that anger is powerful emotion – but Jesus' love conquers anger every time.
Luke 22:47-53
47 While he was still speaking a crowd came up, and the man who was called Judas, one of the Twelve, was leading them. He approached Jesus to kiss him, 48 but Jesus asked him, "Judas, are you betraying the Son of Man with a kiss?"

49 When Jesus' followers saw what was going to happen, they said, "Lord, should we strike with our swords?" 50 And one of them struck the servant of the high priest, cutting off his right ear.

51 But Jesus answered, "No more of this!" And he touched the man's ear and healed him.

52 Then Jesus said to the chief priests, the officers of the temple guard, and the elders, who had come for him, "Am I leading a rebellion, that you have come with swords and clubs? 53 Every day I was with you in the temple courts, and you did not lay a hand on me. But this is your hour—when darkness reigns."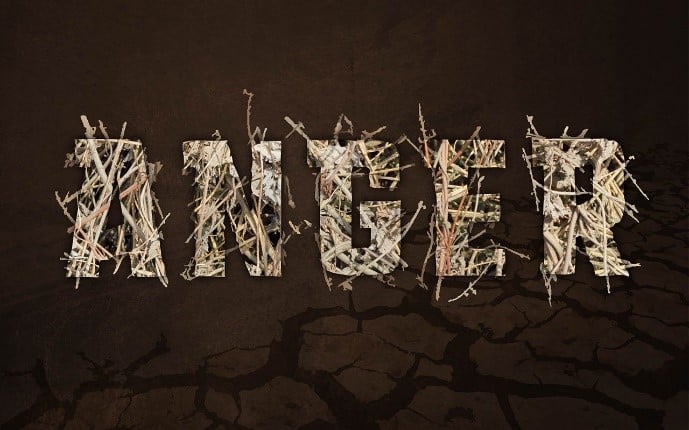 Anger. It can be such a sweet emotion. To give into the certainty that "I am right" or alternately "I have been wronged" and then to make the point-with emotion – often high emotion, fiery, steamy fury. Easy, too easy.
In this story from Jesus' life, we see a group of people who are angry. A great injustice is coming for their friend, their leader and they can see it beginning to unfold. What is worse is that it is wrapped up with deception and disloyalty. Awful. While someone is asking if they should retaliate, it boils over and a sword is drawn, a cut is made.
We have all felt anger. For some it boils and for some it chills the heart to icy revenge. However anger manifests in our lives, we need to be honest about how anger controls us, turn from it and seek Jesus.
In this passage, we see the one who had every reason to feel angry at his treatment, choosing to stop and heal. Jesus turned away from anger and brought restoration to the person who had been harmed. Indeed, a person who was with those seeking to harm him.
It's tempting to say – "that kind of response is too hard for me". And it is hard, but it is not impossible. If we try in our own strength, we will fail. When we turn to God in prayer and ask for his forgiveness and strength to do better, we can. His Holy Spirit lives in us, guiding and supporting our meagre efforts to be more like Jesus. I can attest that little by little, change happens. I am less angry.
Of course, practice makes perfect. We often have to return repeatedly to God, confessing that we have failed to stop our angry response and ask for his help again to help us heal and restore the broken relationship that has come about by our self-satisfying actions and words. Then turn to him for the strength to deny ourselves and go forward as Jesus did. Jesus denied himself and sought our good. We must do the same.
Head: Anger starts between our ears. What conversations are you having that fuel your anger? Who might you confess these things to – so that they can help you when you are tempted to give in to anger?
Heart: Anger is a powerful emotion. As followers of Jesus, we are called to love peace. Practice responding peacefully in situations where you aren't particularly angry.
Hands: Find a song that helps you focus on Jesus and his great love for us. Put it into your play list and play it (often).
Prayer: Dear Lord you are immensely patient with me when I give in to my anger. Help me to confess right now the things that keep me angry and help me to turn from them and turn my focus to Jesus. Thank you for the example that he has given us, that in the face of anger, disloyalty and deception – he responded with healing and restoration. Help me today to be more like him. Amen.
A song to listen to: In Christ Alone
Andrea Pryde