What does readiness for a returning father look like in my life?
Luke 12:35-48
35 "Be dressed ready for service and keep your lamps burning, 36 like servants waiting for their master to return from a wedding banquet, so that when he comes and knocks they can immediately open the door for him. 37 It will be good for those servants whose master finds them watching when he comes. Truly I tell you, he will dress himself to serve, will have them recline at the table and will come and wait on them. 38 It will be good for those servants whose master finds them ready, even if he comes in the middle of the night or toward daybreak. 39 But understand this: If the owner of the house had known at what hour the thief was coming, he would not have let his house be broken into. 40 You also must be ready, because the Son of Man will come at an hour when you do not expect him."

41 Peter asked, "Lord, are you telling this parable to us, or to everyone?"

42 The Lord answered, "Who then is the faithful and wise manager, whom the master puts in charge of his servants to give them their food allowance at the proper time? 43 It will be good for that servant whom the master finds doing so when he returns. 44 Truly I tell you, he will put him in charge of all his possessions. 45 But suppose the servant says to himself, 'My master is taking a long time in coming,' and he then begins to beat the other servants, both men and women, and to eat and drink and get drunk. 46 The master of that servant will come on a day when he does not expect him and at an hour he is not aware of. He will cut him to pieces and assign him a place with the unbelievers.

47 "The servant who knows the master's will and does not get ready or does not do what the master wants will be beaten with many blows. 48 But the one who does not know and does things deserving punishment will be beaten with few blows. From everyone who has been given much, much will be demanded; and from the one who has been entrusted with much, much more will be asked.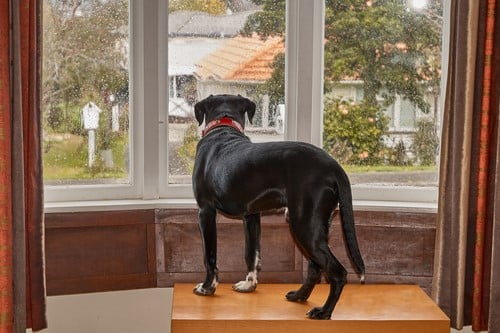 Regularly in the church where I grew up we were reminded of this passage. The focus was on verse 40 and 46 – 'You also must be ready, because the Son of Man will come at an hour when you do not expect him." With this Bible teaching we were in a certain fear that we did not want to be found in a compromising position when Christ returned, as it could be at any day at any hour or time. Be on guard, be ready. The original context for our passage sees Jesus calling for his disciples to be ready for all that is about to happen in Jerusalem when he brings in the Kingdom of God in the drama of his death and resurrection. Unfortunately, they slept! So there is a lesson for us to take to heart in being ready for when Jesus comes again to claim the Kingdom he has already won. Be on guard, be ready.
My Dad's childhood church went further in terms of dictating where a good waiting servant of Christ could be found on any given day. There were certain places that any Christian (in the church leaders' view) should not be found. One such establishment was the cinema. I have often heard my Dad recall how he sweated it out as a teenager when his high school took him on a school trip to the cinema to watch the documentary of the 'Royal Tour of Canada'. Dad says that during the whole black and white motion picture he was worried what would happen to him if Jesus returned and found him there.
This type of fear certainly has its negatives. I remember waking early once as a child and the household was quiet. I pulled the bedroom curtains and the street seemed unusually quiet: I immediately concluded that Jesus had come in the middle of the night and he had left me behind. Rush of guilt, rush of fear.
But there is also a positive attitude that can come from being fully on guard and watchful. There is a need to be in communication with God as there is a real expectancy and an excitement that his return is imminent. Who knows when Jesus is coming back? Does the thought of that excite you for today? Because it could be today that he returns. Wow how cool is that? I personally can't wait for his return. Not that I am perfect, not that I am fully ready. But when I see him, I will know his perfection and the end of waiting for a loving father to return.
Until he does return, we have this time. Precious usable time. Time to assess what are the right things to be doing with our lives. Where are the right places that we should be? How should we spend our time? Our energy and our resources? In this thinking we can consider verse 47 of this passage 'The servant who knows his master's will….' First, do we know our father God's will for our lives? Do we struggle with him on the journey to find that will? Are we resting in his love and protection now knowing even in our desire to seek his will that he is with us and will not leave us? Engage with him in your daily walk, include him in your decision making and life planning. He is not a distant father: he is a father that at any time may knock on your door and call you home. If we are engaged, his knock will not be unfamiliar. Be ready for the knock in an expectant manner and the safe assurance that you are his.
Have a great day reader. You know I may just go to the cinema tonight – I wonder if Dad is free.
Head: In the writing above 'who knows when Jesus is coming back? Does the thought of that excite you for today…' how did that make you feel? If you are concerned and not excited, take those concerns directly to him.
Heart: Do not let your heart be troubled by these words but instead let the tug at your heart today draw you closer not further from your true father who is in heaven now but will one day return. Bathe in his love and his closeness to you.
Hands: Consider the work, the energies, and the resources that you have and do. Are there any that need to be given more fully to Christ?
Prayer: LORD I thank you that you may return any day or any hour. I thank you that despite the fact we serve a God who over 2000 years ago walked this earth you may at any day or stage return. Lord help me to come to you in the certainty that I will know you on that day as you fully know me. Help me to stay close. Never let me stray. Draw me to you on a daily regular basis with hope, joy and expectation of a returning father who loves me more than I can ever comprehend true love to be. In the name of the returning good and perfect father Amen.
A song to listen to: Who you say I am
Emma-Jane McNicol – Living Church Creek Road