Romans 3 and 8 are a rich picture of the gospel, and the forgiveness and life that we have in Christ, through the Spirit, in fellowship with the Father.
Romans 3 and 8 are brimming and overflowing with God's love for us; with the riches of God's finished work in Christ. Romans 3 paints a sobering picture of humankind's sin – which leads into the wonderful picture of the gospel that Paul gives in Romans 3:21-24. This is the very heart of the Christian life, and the reality to which all of Romans and all of God's word points. A few chapters later, Romans 8 then gives us a stunning description of this new life we have in Christ, through the Spirit. Soak in and pray through these words – God's word to you, today – seeing that all of it points to a God who is our Father, and who has, does, and always will work everything for our good (Rom. 8:28) – and has shown us this by giving us his Son.
Rom. 3:1 – 31; 8:1 – 39
3 What advantage, then, is there in being a Jew, or what value is there in circumcision? 2 Much in every way! First of all, the Jews have been entrusted with the very words of God.

3 What if some were unfaithful? Will their unfaithfulness nullify God's faithfulness? 4 Not at all! Let God be true, and every human being a liar. As it is written:

'So that you may be proved right when you speak
    and prevail when you judge.'

5 But if our unrighteousness brings out God's righteousness more clearly, what shall we say? That God is unjust in bringing his wrath on us? (I am using a human argument.) 6 Certainly not! If that were so, how could God judge the world? 7 Someone might argue, 'If my falsehood enhances God's truthfulness and so increases his glory, why am I still condemned as a sinner?' 8 Why not say – as some slanderously claim that we say – 'Let us do evil that good may result'? Their condemnation is just!

No one is righteous

9 What shall we conclude then? Do we have any advantage? Not at all! For we have already made the charge that Jews and Gentiles alike are all under the power of sin. 10 As it is written:

'There is no one righteous, not even one;
11     there is no one who understands;
    there is no one who seeks God.
12 All have turned away,
    they have together become worthless;
there is no one who does good,
    not even one.'
13 'Their throats are open graves;
    their tongues practise deceit.'
'The poison of vipers is on their lips.'
14     'Their mouths are full of cursing and bitterness.'
15 'Their feet are swift to shed blood;
16     ruin and misery mark their ways,
17 and the way of peace they do not know.'
18     'There is no fear of God before their eyes.'

19 Now we know that whatever the law says, it says to those who are under the law, so that every mouth may be silenced and the whole world held accountable to God. 20 Therefore no one will be declared righteous in God's sight by the works of the law; rather, through the law we become conscious of our sin.

Righteousness through faith

21 But now apart from the law the righteousness of God has been made known, to which the Law and the Prophets testify. 22 This righteousness is given through faith in Jesus Christ to all who believe. There is no difference between Jew and Gentile, 23 for all have sinned and fall short of the glory of God, 24 and all are justified freely by his grace through the redemption that came by Christ Jesus. 25 God presented Christ as a sacrifice of atonement, through the shedding of his blood – to be received by faith. He did this to demonstrate his righteousness, because in his forbearance he had left the sins committed beforehand unpunished 26  – he did it to demonstrate his righteousness at the present time, so as to be just and the one who justifies those who have faith in Jesus.

27 Where, then, is boasting? It is excluded. Because of what law? The law that requires works? No, because of the 'law' that requires faith. 28 For we maintain that a person is justified by faith apart from the works of the law. 29 Or is God the God of Jews only? Is he not the God of Gentiles too? Yes, of Gentiles too, 30 since there is only one God, who will justify the circumcised by faith and the uncircumcised through that same faith. 31 Do we, then, nullify the law by this faith? Not at all! Rather, we uphold the law.

Life through the Spirit

8 Therefore, there is now no condemnation for those who are in Christ Jesus, 2 because through Christ Jesus the law of the Spirit who gives life has set you free from the law of sin and death. 3 For what the law was powerless to do because it was weakened by the flesh, God did by sending his own Son in the likeness of sinful flesh to be a sin offering. And so he condemned sin in the flesh, 4 in order that the righteous requirement of the law might be fully met in us, who do not live according to the flesh but according to the Spirit.

5 Those who live according to the flesh have their minds set on what the flesh desires; but those who live in accordance with the Spirit have their minds set on what the Spirit desires. 6 The mind governed by the flesh is death, but the mind governed by the Spirit is life and peace. 7 The mind governed by the flesh is hostile to God; it does not submit to God's law, nor can it do so. 8 Those who are in the realm of the flesh cannot please God.

9 You, however, are not in the realm of the flesh but are in the realm of the Spirit, if indeed the Spirit of God lives in you. And if anyone does not have the Spirit of Christ, they do not belong to Christ. 10 But if Christ is in you, then even though your body is subject to death because of sin, the Spirit gives life because of righteousness. 11 And if the Spirit of him who raised Jesus from the dead is living in you, he who raised Christ from the dead will also give life to your mortal bodies because of his Spirit who lives in you.

12 Therefore, brothers and sisters, we have an obligation – but it is not to the flesh, to live according to it. 13 For if you live according to the flesh, you will die; but if by the Spirit you put to death the misdeeds of the body, you will live.

14 For those who are led by the Spirit of God are the children of God. 15 The Spirit you received does not make you slaves, so that you live in fear again; rather, the Spirit you received brought about your adoption to sonship. And by him we cry, 'Abba, Father.' 16 The Spirit himself testifies with our spirit that we are God's children. 17 Now if we are children, then we are heirs – heirs of God and co-heirs with Christ, if indeed we share in his sufferings in order that we may also share in his glory.

Present suffering and future glory

18 I consider that our present sufferings are not worth comparing with the glory that will be revealed in us. 19 For the creation waits in eager expectation for the children of God to be revealed. 20 For the creation was subjected to frustration, not by its own choice, but by the will of the one who subjected it, in hope 21 that the creation itself will be liberated from its bondage to decay and brought into the freedom and glory of the children of God.

22 We know that the whole creation has been groaning as in the pains of childbirth right up to the present time. 23 Not only so, but we ourselves, who have the first fruits of the Spirit, groan inwardly as we wait eagerly for our adoption to sonship, the redemption of our bodies. 24 For in this hope we were saved. But hope that is seen is no hope at all. Who hopes for what they already have? 25 But if we hope for what we do not yet have, we wait for it patiently.

26 In the same way, the Spirit helps us in our weakness. We do not know what we ought to pray for, but the Spirit himself intercedes for us through wordless groans. 27 And he who searches our hearts knows the mind of the Spirit, because the Spirit intercedes for God's people in accordance with the will of God.

28 And we know that in all things God works for the good of those who love him, who have been called according to his purpose. 29 For those God foreknew he also predestined to be conformed to the image of his Son, that he might be the firstborn among many brothers and sisters. 30 And those he predestined, he also called; those he called, he also justified; those he justified, he also glorified.

More than conquerors

31 What, then, shall we say in response to these things? If God is for us, who can be against us? 32 He who did not spare his own Son, but gave him up for us all – how will he not also, along with him, graciously give us all things? 33 Who will bring any charge against those whom God has chosen? It is God who justifies. 34 Who then is the one who condemns? No one. Christ Jesus who died – more than that, who was raised to life – is at the right hand of God and is also interceding for us. 35 Who shall separate us from the love of Christ? Shall trouble or hardship or persecution or famine or nakedness or danger or sword? 36 As it is written:

'For your sake we face death all day long;
    we are considered as sheep to be slaughtered.'

37 No, in all these things we are more than conquerors through him who loved us. 38 For I am convinced that neither death nor life, neither angels nor demons, neither the present nor the future, nor any powers, 39 neither height nor depth, nor anything else in all creation, will be able to separate us from the love of God that is in Christ Jesus our Lord.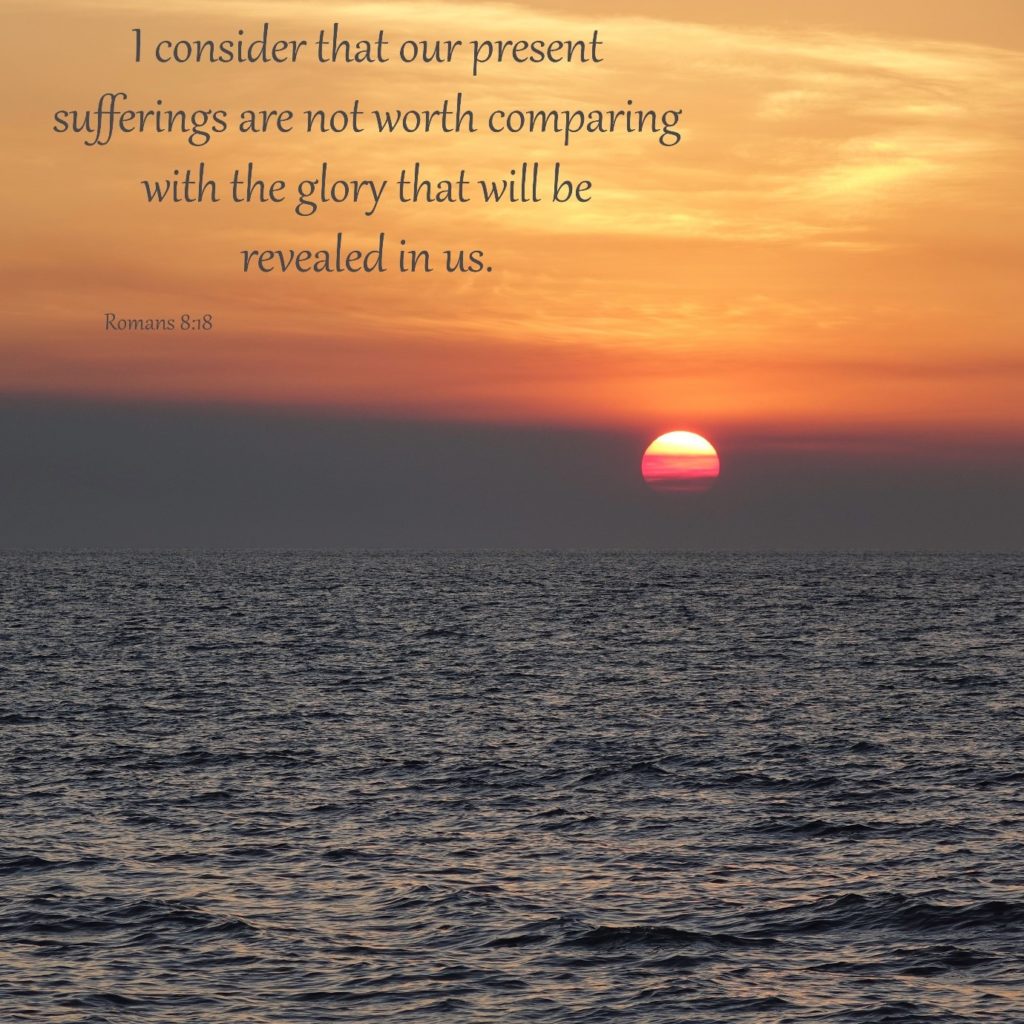 Prayer: Heavenly Father, I know that I am a sinner, and you had no obligation to save or forgive me. But you have not only saved and forgiven me – by giving your beautiful Son Jesus to die for me – you have also given me life in him, filled me with your Spirit, called me your child, and filled my life with goodness. Thank you, Lord. Today, I will sing to you because you have dealt bountifully with me. (Psalm 13:6). All glory is yours. Amen.
A song to listen to: At The Cross
Bloss Wilson
Living Church – Springfield