John 3:1-21
Now there was a Pharisee, a man named Nicodemus who was a member of the Jewish ruling council. 2 He came to Jesus at night and said, "Rabbi, we know that you are a teacher who has come from God. For no one could perform the signs you are doing if God were not with him."
3 Jesus replied, "Very truly I tell you, no one can see the kingdom of God unless they are born again."
4 "How can someone be born when they are old?" Nicodemus asked. "Surely they cannot enter a second time into their mother's womb to be born!"
5 Jesus answered, "Very truly I tell you, no one can enter the kingdom of God unless they are born of water and the Spirit. 6 Flesh gives birth to flesh, but the Spirit gives birth to spirit. 7 You should not be surprised at my saying, 'Youmust be born again.' 8 The wind blows wherever it pleases. You hear its sound, but you cannot tell where it comes from or where it is going. So it is with everyone born of the Spirit."
9 "How can this be?" Nicodemus asked.
10 "You are Israel's teacher," said Jesus, "and do you not understand these things? 11 Very truly I tell you, we speak of what we know, and we testify to what we have seen, but still you people do not accept our testimony. 12 I have spoken to you of earthly things and you do not believe; how then will you believe if I speak of heavenly things? 13 No one has ever gone into heaven except the one who came from heaven—the Son of Man. 14 Just as Moses lifted up the snake in the wilderness, so the Son of Man must be lifted up, 15 that everyone who believes may have eternal life in him."
16 For God so loved the world that he gave his one and only Son, that whoever believes in him shall not perish but have eternal life. 17 For God did not send his Son into the world to condemn the world, but to save the world through him.18 Whoever believes in him is not condemned, but whoever does not believe stands condemned already because they have not believed in the name of God's one and only Son. 19 This is the verdict: Light has come into the world, but people loved darkness instead of light because their deeds were evil.20 Everyone who does evil hates the light, and will not come into the light for fear that their deeds will be exposed. 21 But whoever lives by the truth comes into the light, so that it may be seen plainly that what they have done has been done in the sight of God.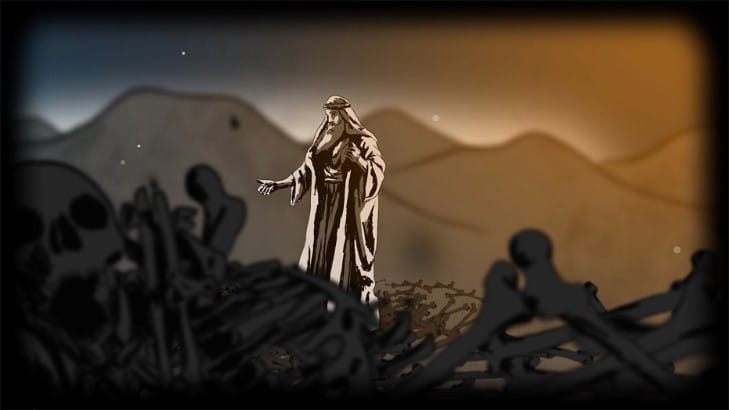 When I was in senior at high school, I toyed with the idea of studying criminal psychology or forensic pathology. Those fields interested me, but I wasn't interested in the amount of study they required! I still love reading about them in fiction novels: a good Kathy Reichs, Val McDermid or Patricia Cornwall will do nicely with a hot cup of tea, a quiet husband (hush David!) and plenty of chocolate. I also love British crime drama: forensic shows like 'Silent Witness', which is all about the silent testimony of a dead body when examined forensically.
I'm still fascinated by things like 'body farms' in forensics. A body farm is a quiet place where bodies are placed to rot. Silently. Various states of body decomposition are then studied to help investigators do their jobs. Real, silent bodies become real witnesses in real life crime scene investigations.
The image of a body farm has no sense of life at all (aside from the insects that might be present!) The valley of dry bones that the prophet Ezekiel is presented with in the Old Testament has this same sense. The only way these bones can come to life is by the Spirit of God:
The he said to me, "Prophesy to these bones and say to them, 'Dry bones, hear the word of the Lord! This is what the Sovereign Lord says to these bones: I will make breath enter you, and you will come to life. . .'" Ezekiel 37:4-5
The Bible tells us that we're all like the bodies in a body farm. And we're all like the bones of the Israelites in Ezekiel – dead, dried up and without hope – utterly helpless. This is what we are like spiritually. We need the breath of life to enter us so we can come to life. Our sin brings death, but Jesus brings new life by breathing his Spirit into us.
Here in this episode of John's testimonial, a crime drama with several dead bodies to come, Nicodemus weighs Jesus' words carefully. When Nicodemus listens to Jesus, it's like we can see his mind turning over the words of Jesus: 'I tell you the truth, you must be born again.'
As we progress through John, we're going to see more episodes with Nicodemus. He seems to sit on the fence when it comes to how he's going to deal with the confronting words of Jesus. John wants us to be asking: Will Nicodemus believe in Jesus? Will he receive Jesus, and so receive his Spirit of new life? Will he come alive again to testify to Jesus, or is Nicodemus going to remain just a 'silent witness'?
Head: If Israel's teachers found these things hard to understand, then why should we think that we may understand better?
Heart: Many of us have heard about or experienced 'flesh giving birth to flesh' and know that real 'labour' is required. Have you pondered in your heart lately the cost required for 'spirit to be born of spirit'? How does this make you feel?
Hands: Who can you pray for right now that needs 'new life'? Remember that we pray because of his Spirit and in his power!
Prayer:  Our Father in Heaven, Holy are you and great is your mighty name. Thanks that because of Jesus we no longer stand condemned, but stand with Jesus. Thanks that by your Spirit we are born again into life eternal. Please help us to trust in you for all things, knowing that you are the giver of grace. Please let what we do today and tomorrow, testify to what Jesus has done for us through his death and resurrection. In Jesus' name, and by the power of his Spirit, Amen.
This Grow Daily was first posted in 2016 with the 'Spirit of Jesus' series.