Humans can tend to look at just outward appearance, but God looks at the heart.
1 Samuel 16
The Lord said to Samuel, "How long will you mourn for Saul, since I have rejected him as king over Israel? Fill your horn with oil and be on your way; I am sending you to Jesse of Bethlehem. I have chosen one of his sons to be king."

2 But Samuel said, "How can I go? If Saul hears about it, he will kill me."

The Lord said, "Take a heifer with you and say, 'I have come to sacrifice to the Lord.' 3 Invite Jesse to the sacrifice, and I will show you what to do. You are to anoint for me the one I indicate."

4 Samuel did what the Lord said. When he arrived at Bethlehem, the elders of the town trembled when they met him. They asked, "Do you come in peace?"

5 Samuel replied, "Yes, in peace; I have come to sacrifice to the Lord. Consecrate yourselves and come to the sacrifice with me." Then he consecrated Jesse and his sons and invited them to the sacrifice.

6 When they arrived, Samuel saw Eliab and thought, "Surely the Lord's anointed stands here before the Lord."

7 But the Lord said to Samuel, "Do not consider his appearance or his height, for I have rejected him. The Lord does not look at the things people look at. People look at the outward appearance, but the Lord looks at the heart."

8 Then Jesse called Abinadab and had him pass in front of Samuel. But Samuel said, "The Lord has not chosen this one either." 9 Jesse then had Shammah pass by, but Samuel said, "Nor has the Lord chosen this one."10 Jesse had seven of his sons pass before Samuel, but Samuel said to him, "The Lord has not chosen these." 11 So he asked Jesse, "Are these all the sons you have?"

"There is still the youngest," Jesse answered. "He is tending the sheep."

Samuel said, "Send for him; we will not sit down until he arrives."

12 So he sent for him and had him brought in. He was glowing with health and had a fine appearance and handsome features.

Then the Lord said, "Rise and anoint him; this is the one."

13 So Samuel took the horn of oil and anointed him in the presence of his brothers, and from that day on the Spirit of the Lord came powerfully upon David. Samuel then went to Ramah.

14 Now the Spirit of the Lord had departed from Saul, and an evil spirit from the Lord tormented him.

15 Saul's attendants said to him, "See, an evil spirit from God is tormenting you. 16 Let our lord command his servants here to search for someone who can play the lyre. He will play when the evil spirit from God comes on you, and you will feel better."

17 So Saul said to his attendants, "Find someone who plays well and bring him to me."

18 One of the servants answered, "I have seen a son of Jesse of Bethlehem who knows how to play the lyre. He is a brave man and a warrior. He speaks well and is a fine-looking man. And the Lord is with him."

19 Then Saul sent messengers to Jesse and said, "Send me your son David, who is with the sheep." 20 So Jesse took a donkey loaded with bread, a skin of wine and a young goat and sent them with his son David to Saul.

21 David came to Saul and entered his service. Saul liked him very much, and David became one of his armor-bearers. 22 Then Saul sent word to Jesse, saying, "Allow David to remain in my service, for I am pleased with him."

23 Whenever the spirit from God came on Saul, David would take up his lyre and play. Then relief would come to Saul; he would feel better, and the evil spirit would leave him.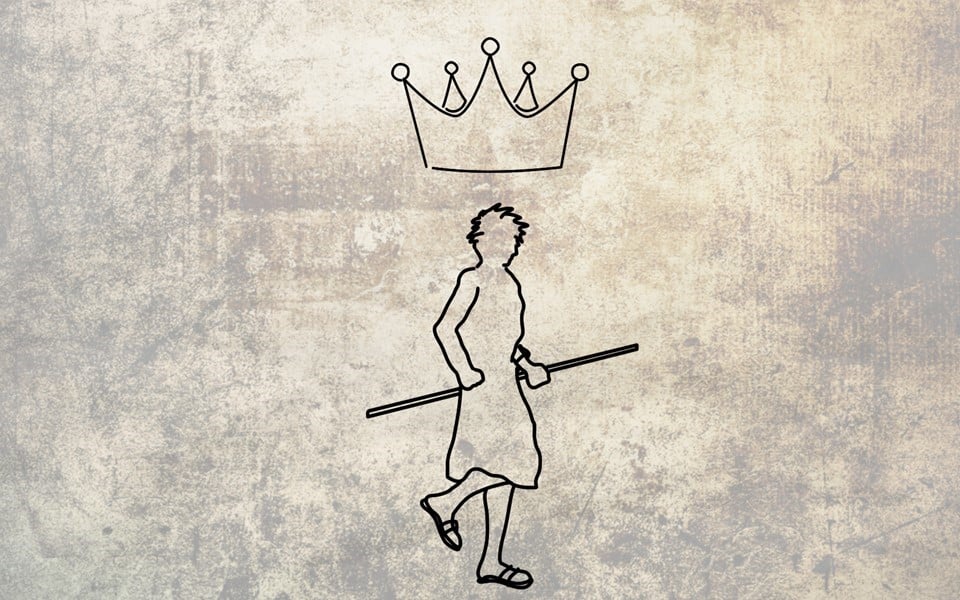 Yesterday's Grow Daily saw God grant Israel's request for a king. Today, we see the end of the reign of Israel's first king, Saul, and we meet his successor, David.
1 Samuel 9:2 tells us that Saul was more handsome, and taller, than any other man in Israel. So I guess you could say he looked the part of a king. But as it showed, he didn't have the heart.
I think we can sometimes be similar to Israel, in that the way that we can place an excessive emphasis on outward appearance when judging ,or considering, a person. There are plenty of examples of this being the case, whether it be in sport or politics or some other field.
Thankfully, outward appearance isn't where God looks when considering us. As verse 7 says, He looks at the heart—the inward moral and spiritual life. Our emotions and wills.
God looks at the heart above all other things. A common theme in scripture is the irrelevance of a person's social status in God's eyes; He often uses those of lowly status. In this case, David seems to have been held in low regard even by his family (simply because he was the youngest). His father doesn't even mention him by name (verse 11). He doesn't appear to have been invited to the sacrificial feast. David wouldn't have been brought at all if Samuel hadn't insisted on it.
Yet God chose him because he was a man after his own heart. That's why David was chosen – what set him apart (1 Samuel 13:14). God chose a good king for His people.
And how much more does He do that for us, with Jesus?! Israel experienced blessing under David, but David, like all of us, was flawed. Jesus is a perfect king, with a perfect heart. And the blessings we receive under Him outweigh those received by Israel under David – salvation, forgiveness, and eternal life.
Head: David was plucked from relative obscurity (keeping the sheep) to be the leader of God's people. What can this teach us about being faithful in the small things?
Heart: How can knowing the goodness of the King of the Universe give you comfort and peace in today's world?
Hands: Consider the ways you judge and consider people that might not align with how God sees people. What shift can you make today to align more with God's perspective on this?
Prayer: Dear Heavenly Father, thanks for your goodness to us as king of the universe. I pray that that would seep into my heart and give me peace and joy. I also pray that you would open my eyes to how I see and judge people, and even though I'll never be able to completely see people the way you do, I pray that my vision would align closer with yours. I pray this in Jesus' name, amen.
A song to listen to: Blessed Assurance
David Lather – Living Church Creek Road
This Grow Daily was originally posted as part of the Bible in 10 series in 2017. During the School Holidays we take the opportunity to look back at the best of Grow Dailys over the years.