Other Events at Living Church
The events below are on-going and are open to everyone (unless otherwise stated). Please reach out if you have any questions about our events.
Ministry Centre: 1541 Creek Road, Carina. 4152
Every year about this time we start looking towards Christmas. Kids wait impatiently. Adults plan parties and presents. It is a season of anticipation. But it is nothing like the anticipation of the very first Christmas.
This year at the Living Church Carols Carnival we will imagine what that first great time of anticipation would have been like and celebrate the good news that was definitely worth waiting for.
Morning: Carols 9am. Carnival 10:00am
Evening: Carnival 5pm. Carols 6pm. More Carnival! 7pm
Carnival activities include: jumping castle, lawn games, face painting, bake sale, barbeque (10am), food trucks (7pm) and more!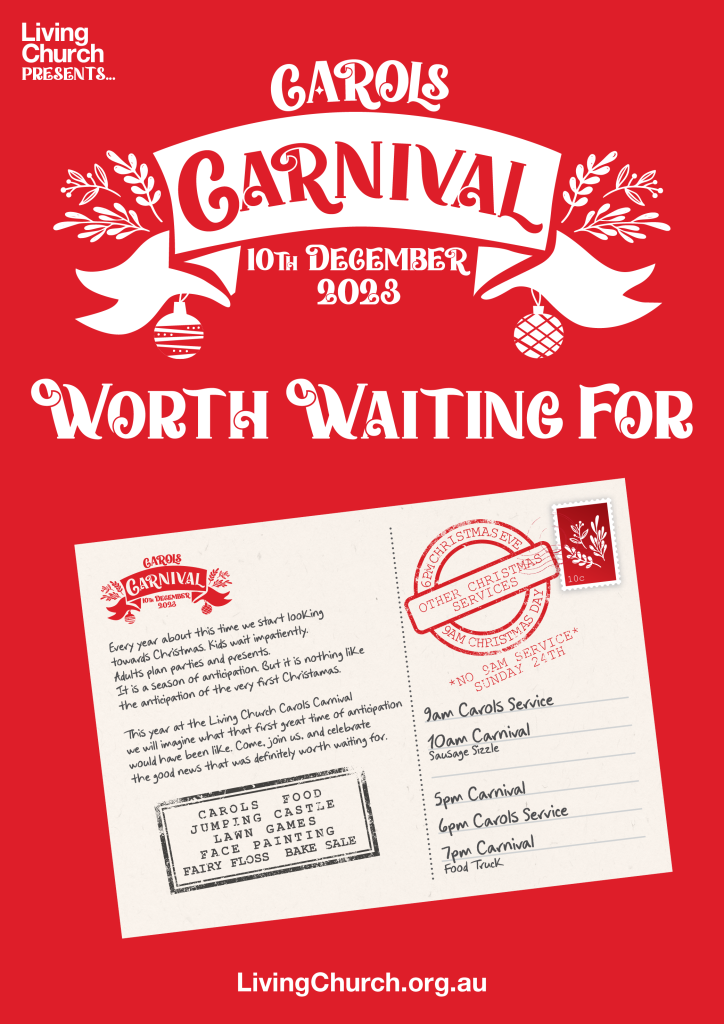 Monday 3 - Friday 7th July 2023, 9:00am-12:30pm each day
Come join a week of fantastic fun with the Living Church Kids Team. Five fun-filled half days of Bible stories, games, craft, sport and activities, leading up to a celebration for the whole family on Sunday at 9am.
Age: Prep – Grade 6
Where:  Living Church Ministry Centre,
1541 Creek Road Carina
Cost: $80 per child (max $200 per family)
If you are registering 3 or more children use the discount codes – 3KIDS, 4KIDS, 5KIDS
This includes a substantial morning tea

Registrations close: Sunday 25 June 2023
A chance to celebrate the fun we all had during the week. For the whole family with free Sausage Sizzle afterwards
Date: Sunday 9 July 2022
Time: 9:00am 
Where:  Living Church Ministry Centre, 
1541 Creek Road Carina
Cost: Free