Can we be living yet dead?
Ezekiel 37:1-14
The hand of the Lord was on me, and he brought me out by the Spirit of the Lord and set me in the middle of a valley; it was full of bones. 2 He led me back and forth among them, and I saw a great many bones on the floor of the valley, bones that were very dry. 3 He asked me, "Son of man, can these bones live?"

I said, "Sovereign Lord, you alone know."

4 Then he said to me, "Prophesy to these bones and say to them, 'Dry bones, hear the word of the Lord! 5 This is what the Sovereign Lord says to these bones: I will make breath[a] enter you, and you will come to life. 6 I will attach tendons to you and make flesh come upon you and cover you with skin; I will put breath in you, and you will come to life. Then you will know that I am the Lord.'"

7 So I prophesied as I was commanded. And as I was prophesying, there was a noise, a rattling sound, and the bones came together, bone to bone. 8 I looked, and tendons and flesh appeared on them and skin covered them, but there was no breath in them.

9 Then he said to me, "Prophesy to the breath; prophesy, son of man, and say to it, 'This is what the Sovereign Lord says: Come, breath, from the four winds and breathe into these slain, that they may live.'" 10 So I prophesied as he commanded me, and breath entered them; they came to life and stood up on their feet—a vast army.

11 Then he said to me: "Son of man, these bones are the people of Israel. They say, 'Our bones are dried up and our hope is gone; we are cut off.' 12 Therefore prophesy and say to them: 'This is what the Sovereign Lord says: My people, I am going to open your graves and bring you up from them; I will bring you back to the land of Israel.13 Then you, my people, will know that I am the Lord, when I open your graves and bring you up from them. 14 I will put my Spirit in you and you will live, and I will settle you in your own land. Then you will know that I the Lord have spoken, and I have done it, declares the Lord.'"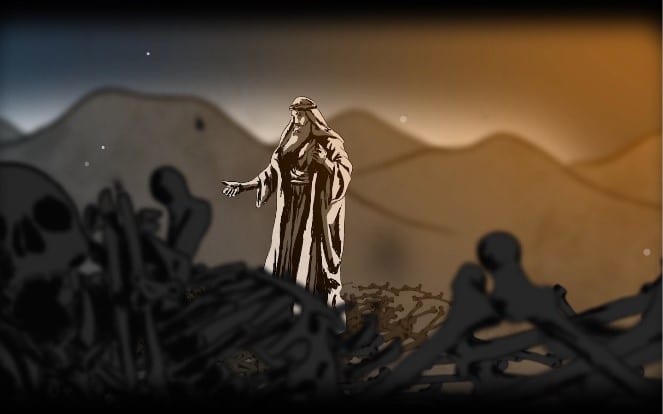 Have you ever felt dead? We can feel dead in different ways. Sometimes I feel so tired and exhausted from a lot of activity that I have no energy whatsoever. Sometimes I can feel emotionally dead – very flat or numb. Sometimes I can feel spiritually dead when the good things of God hold no interest.
This is a fascinating passage from Ezekiel. It inspired the African-American slaves to write a famous song known as "Dry Bones Gonna Rise Again". For them it was a symbol of hope as they looked forward to a time of freedom from their lives of slavery.
This passage contains an amazing promise looking forward to a time when the people of Israel will again be settled but more than that to a time of a resurrection.
In this passage, the bones cry out "our hope is gone, we are cut off". Have you ever felt like that? Cut off from hope or from help or cut off from the source of life?
When we feel like this we often feel hopeless when it comes to loving others or expressing joy or patience or feeling at peace. The upside of this passage is that God is promising to do a work on these dead, dry bones. God is going to breathe his Spirit into these bones and they will live again.
As we live in this world as God's children adopted into his kingdom through the work of his son Jesus on the cross – we can only live well when we rely on God's Spirit. We need to welcome God's Spirit into our lives on a daily basis and walk by that Spirit all day long. His Spirit will produce in us a way of life that goes beyond our natural sinful selves. His Spirit resurrects us daily to express the fruit of his Spirit.
This passage also reminds me of two other related incidents in the Gospels. After Jesus rose from the dead and before he ascended to his father he breathed on his disciples and instructed them to receive the Holy Spirit (John 20:22) . Also there is that strange comment in Matthew 27:53 where we see graves being opened and deceased holy people coming out of their graves and walking into town after Jesus' resurrection. On the one hand, very strange times and yet on the other we see the fulfilling of these ancient prophesies. And that leads me to conclude that God keeps his promises and those promises come all the way down through history to us. He has given us his Spirit which produces new life in us: A life of fruitfulness and grace and love towards God and others. It's the only way to produce this new life.
Head: When do you suffer from feeling dead or lifeless?
Heart: What do you need to change in your heart's attitude towards God's Spirit?
Hands: Is there someone in your life you can encourage to trust in God's Spirit to help them?
Prayer: Father God we thank you that you keep your promises. We thank you that Jesus made a way for us to receive your Spirit within us so that we may express your life to those around us. Help us to welcome and receive the ongoing work of your Spirit each day. Please forgive us when we resist your Spirit and think we can reform ourselves without your help.
A song to listen to: Made alive
Tim Hewlett