As David begins his journey from exile back to the throne, we're reminded of his steadfast faith and his mercy at a time where a lesser man might easily have strayed.
2 Samuel 19:9-30
9 Throughout the tribes of Israel, all the people were arguing among themselves, saying, 'The king delivered us from the hand of our enemies; he is the one who rescued us from the hand of the Philistines. But now he has fled the country to escape from Absalom; 10 and Absalom, whom we anointed to rule over us, has died in battle. So why do you say nothing about bringing the king back?'

11 King David sent this message to Zadok and Abiathar, the priests: 'Ask the elders of Judah, "Why should you be the last to bring the king back to his palace, since what is being said throughout Israel has reached the king at his quarters? 12 You are my relatives, my own flesh and blood. So why should you be the last to bring back the king?" 13 And say to Amasa, "Are you not my own flesh and blood? May God deal with me, be it ever so severely, if you are not the commander of my army for life in place of Joab."'

14 He won over the hearts of the men of Judah so that they were all of one mind. They sent word to the king, 'Return, you and all your men.' 15 Then the king returned and went as far as the Jordan.

Now the men of Judah had come to Gilgal to go out and meet the king and bring him across the Jordan. 16 Shimei son of Gera, the Benjaminite from Bahurim, hurried down with the men of Judah to meet King David. 17 With him were a thousand Benjaminites, along with Ziba, the steward of Saul's household, and his fifteen sons and twenty servants. They rushed to the Jordan, where the king was. 18 They crossed at the ford to take the king's household over and to do whatever he wished.

When Shimei son of Gera crossed the Jordan, he fell prostrate before the king 19 and said to him, 'May my lord not hold me guilty. Do not remember how your servant did wrong on the day my lord the king left Jerusalem. May the king put it out of his mind. 20 For I your servant know that I have sinned, but today I have come here as the first from the tribes of Joseph to come down and meet my lord the king.'

21 Then Abishai son of Zeruiah said, 'Shouldn't Shimei be put to death for this? He cursed the Lord's anointed.'

22 David replied, 'What does this have to do with you, you sons of Zeruiah? What right do you have to interfere? Should anyone be put to death in Israel today? Don't I know that today I am king over Israel?' 23 So the king said to Shimei, 'You shall not die.' And the king promised him on oath.

24 Mephibosheth, Saul's grandson, also went down to meet the king. He had not taken care of his feet or trimmed his moustache or washed his clothes from the day the king left until the day he returned safely. 25 When he came from Jerusalem to meet the king, the king asked him, 'Why didn't you go with me, Mephibosheth?'

26 He said, 'My lord the king, since I your servant am lame, I said, "I will have my donkey saddled and will ride on it, so that I can go with the king." But Ziba my servant betrayed me. 27 And he has slandered your servant to my lord the king. My lord the king is like an angel of God; so do whatever you wish. 28 All my grandfather's descendants deserved nothing but death from my lord the king, but you gave your servant a place among those who eat at your table. So what right do I have to make any more appeals to the king?'

29 The king said to him, 'Why say more? I order you and Ziba to divide the land.'

30 Mephibosheth said to the king, 'Let him take everything, now that my lord the king has returned home safely.'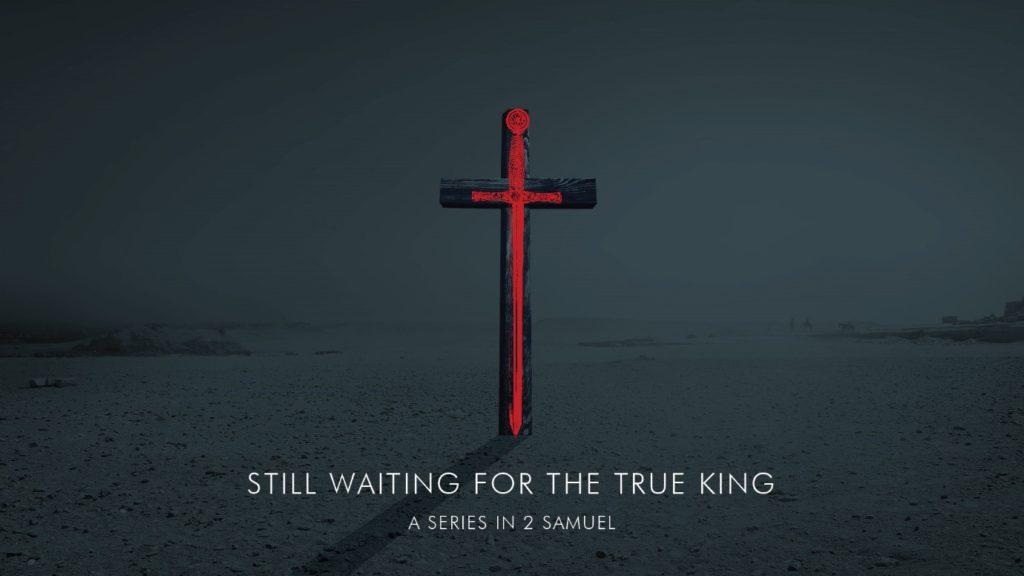 I'm struck by the character of David at this juncture.  Clearly, calamity has rained destruction on his family and his kingdom, just as God promised.  Yet, he seems to rest in the sovereignty of God – completely submissive, and completely accepting of how things unfold, which is emphasised even more after Bathsheba and the resulting curse.  I wonder what God might use me for, if I had even a fraction of David's faith and submitted to the Lord the way he did.
Now contrast David's character with that of Joab and Abishai. It appears to me that though seemingly loyal to David (or perhaps his throne at least) they often plot either to take matters into their own hands, or influence David to act rashly, and usually by the sword. And David seems strangely patient with them. I guess they are his nephews, though bloodlines haven't counted for much thus far. In this instance, I can only imagine that Shimei at least half expected the worst when he thrust himself at David's feet. He might have felt even more anxious having heard Abishai urging David to end his life. Or maybe the reason Shimei sought David's forgiveness so opportunistically is because he remembered the mercy David had shown him when he was cursing and stoning David as he fled from Absalom. Either way, I can imagine Shimei would have felt immense relief hearing David rebuke Abishai and declare Shimei's life would be spared. Steadfast resolve and undeserved mercy.
As someone blessed to live in the grace of God offered through Jesus, it's hard to imagine what I would have made of all that, had I been there. Would I have been nodding in agreement with Abishai – disgusted that someone who cursed God's anointed King, my King, could simply be forgiven without consequence? Probably.. I don't like to think of myself that way, but before receiving Jesus' grace, what hope for peace was there but through justice, and the relentless pursuit of justice can be all consuming.
Grace, offered through Jesus.. Actually, I find it amazing to think that our saviour, Jesus, eventually still emerges from this apparent train wreck. Now there's a lingering thought. Think Bruce Willis' character in the movie Unbreakable if you're a visual person. I do find great encouragement in that though. It's comforting to remember that God's plans and promises, however impossible they may seem to us, were, and always will be fulfilled, despite our best efforts at rebellion. And since rebellion is what I seem to do best, that works out rather well, don't you think?
Head: I was originally confused by the rebuke, "What does this have to do with you, you sons of Zeruiah?". Where have we seen this before? Why does David use those words?
Heart: Do you think you would have sided with Abishai, had you been there? Are you quick to wield the (hopefully metaphorical) sword, even today, even if only in your thoughts?
Hands: Would you characterise yourself as merciful? If you're like me, you might say – it depends on the scenario. Ain't reason and justification grand. Challenge – find an opportunity to channel the Spirit and show mercy in a situation that really doesn't deserve it, something completely counter to your every inclination towards justice. See where it leads you.
Prayer:
Heavenly father, I'm so grateful that your will prevails, not my own. Thank you that your will was the prevailing counsel to David. Thank you for delivering on your promise of a forever king and for the immeasurable mercy you've shown us through him. In Jesus' name and by the Spirit, Amen.
A song to listen to: I Will Follow You (Live), by By Kristene Dimarco
Kristian O'Dempsey
Living Church
Creek Road