Creek Road Youth is a dynamic youth community that has a diversity of young people following Jesus together. All our youth ministries are about helping youth connect with Jesus and grow in their love and service of him.
Growth Groups are the cornerstone of our youth ministry.
These are small groups of young people that meet regularly with their leader to explore God's word and follow Jesus together.
We have a passionate team of youth leaders who share with their Youth Growth Group not just the gospel, but their lives as well. As well digging into the Bible, they will also have fun times together and even serve together.
Our Youth Growth Groups material is integrated with what the whole church family is doing, so we can all be on the same page as we seek to follow Jesus together. Through our Youth Growth Groups we pray God will change the world, one disciple at a time.
Youth Growth Groups are for anyone of high school age.
You will find Youth Growth Groups on Sunday, 4:00 – 6:00 pm at the Creek Road Ministry Centre.
Friday Night Live
During the school term, our Growth Groups get together as the community of Jesus to hear the gospel, eat together and discern the culture that we live in. All the information for these will be posted as events on Facebook. Below is a graphic that has all the details for the year.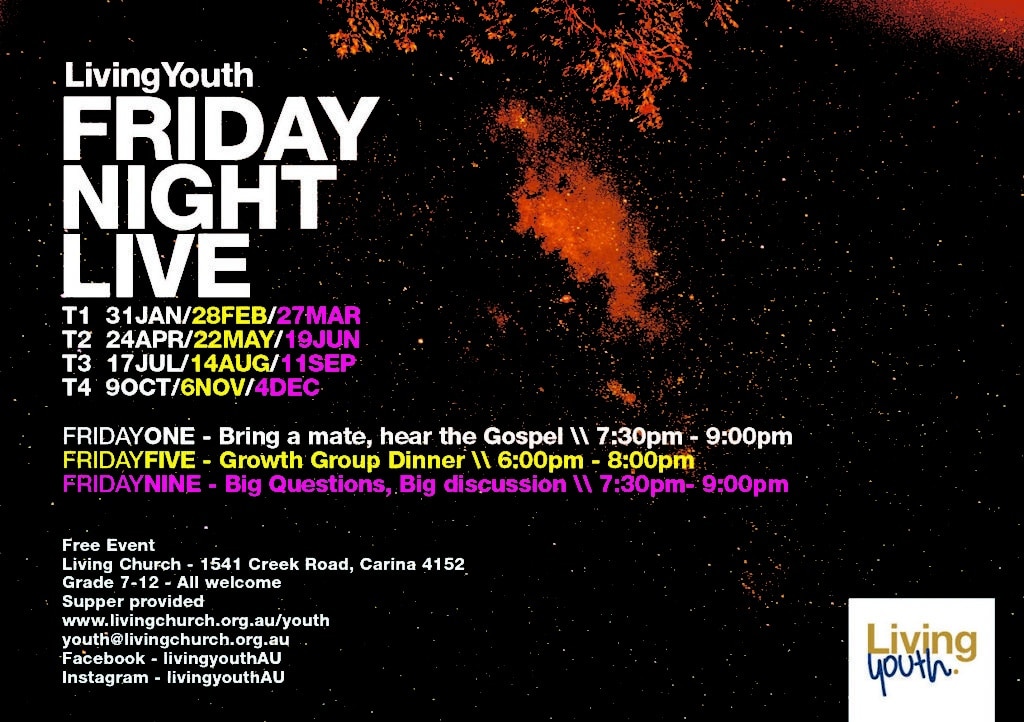 For more about any of our youth ministries contact: youth@creekroad.org.au